HH The Emir's Sword Festival
Posted On: 6 February 2018 05:06 pm
Updated On: 16 August 2022 08:27 am
Categories : Sports
Events Details
Date:
Time:
Ticket Purchase: No tickets needed
Price: General - It's free!
Phone: 4482 5708
Website: http://www.qrec.gov.qa/
One of the biggest events on Qatar's horse racing calendar will take place this month. The event brings together some of the world's best Purebred Arabians and is a unique sporting spectacle. Be a part of Qatar's cherished heritage and engage in the many cultural and equestrian activities that all guests can enjoy.
Free entry for all. Feb 22-23, 3.30pm-7.15pm; Feb 24, 1pm-4.45pm.
Qatar Racing and Equestrian Club, Al Rayyan Racecourse.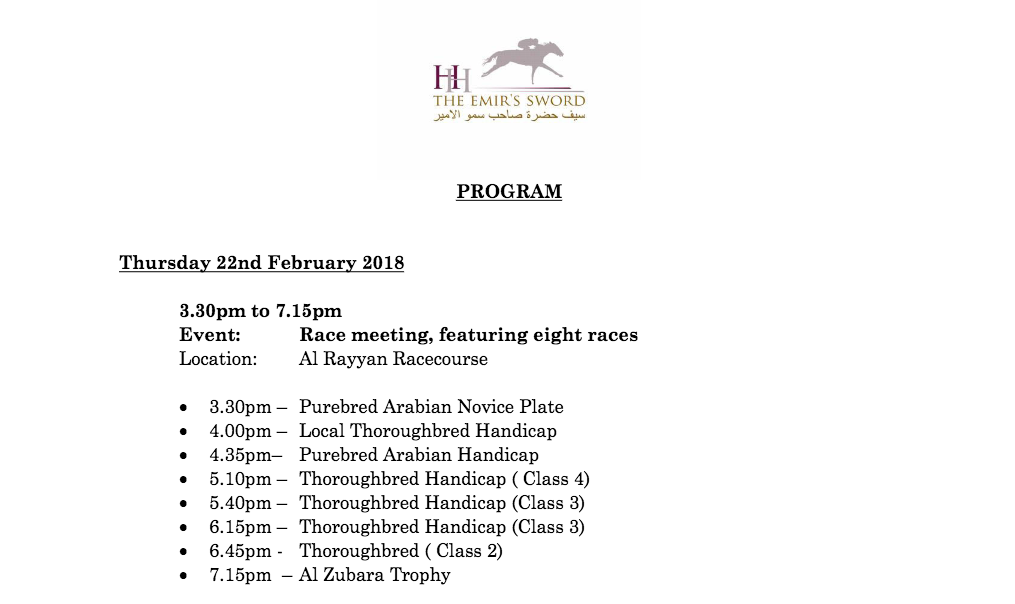 As part of H.H The Emir's Sword Race Day, the Qatar Racing and Equestrian Club is cordially inviting you to participate in our elegance contest, open to all, with no pre-registration. Just dress upon your style and get a chance to be captured by our fashionistas who will circulate amongst the crowds during the afternoon. The best dressed lady will receive a classic timepiece donated by Longines. We are looking forward to welcoming you, do not miss this unique chance of being part of it! Dress code: Please take into consideration dresses and skirts should be of modest length (defined as falling just above the knee or longer) and shoulders should be covered.
For those of you looking to give a final touch to your attire, Emily- London , British millenery Label, specializing in exclusive and handmade headwear (www.emily-london.com) will be available for purchase at the racecourse.
You Might Like It